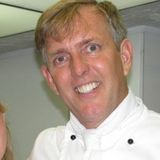 Chef Tim R
Chef Tim - always something great for dinner!
Chef in Palm Beach, Florida
Chef Tim Raymond began his professional journey over forty-five years ago when he started his first job at The North Port seafood restaurant on Cape Cod. With this position Chef Tim was able to absorb the innerworkings of the food service industry and developed an unfaltering work ethic. As a result of this early experience and the lessons it afforded him, Chef Tim's genuine love for the culinary arts was born. Every moment since, with passionate determination Chef Tim has worked tirelessly to become the premiere master chef he is today. After graduating from Johnson and Wales Culinary School in 1977 Chef Tim began compiling an impressive resume of culinary service. Just out of school he accepted a job with Mr. Robert C. Morse a well-established artist, pianist, author, and chef. During his time with Mr. Morse, Chef Tim refined not only his cooking skills but also his ability to manage a kitchen. When an opportunity came about to expand his talents to a unique culinary stage Chef Tim eagerly accepted the challenge. For several years he worked as a chef on the yacht Pearl Necklace serving not just his employers but also their expansive staff and yacht crew. Following his time on the yacht, Chef Tim accepted a position with Mr. and Mrs. Willim, a distinguished family on the island of Palm Beach in Florida. For thirteen year Chef Tim served the Willims as a devoted chef and loyal employee until their final days. With these three positions Chef Tim was able to seamlessly manage multiple high power kitchens and their associated staff, while simultaneously creating consistently delicious meals. For the past twenty years Chef Tim has continued to maintain his reputation for culinary excellence while working in many of the finer homes on Palm Beach and building a well-known freelance catering business. While maintaining his busy professional life Chef Tim is also a dedicated husband and father. When he is not hard at work he enjoys spending time with his family's Cavalier King Charles puppy, reading, and playing the bass guitar in his local rock and roll band. Over the course of his impressive career Chef Tim's passion for his profession has remained steadfast as he continues to warm the hearts and stomachs of those he serves.
Share This Profile
Find Chef in Palm Beach, Florida
More in Palm Beach, Florida