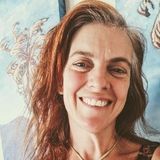 Elka W
Elka Wilder, Versatile chef who specializes in buffet-style parties and multi course, blindfolded meals
Chef in Palm Springs, California
I'd like to make your next dinner party an unforgettable event! My multiple course blindfolded meals usually begin with aromatherapy and a singing bowl experience, unless you would prefer to go straight to the table. At least ten delicious savoury courses, and a two course dessert, will engage the senses. I will design the menu according to any particular dietary needs. I'm also extremely flexible as a chef and willing to do casual parties with buffet-style service. I can do vegan, gluten-free, paleo, keto, raw foods, Mediterranean, Indian, Mexican, down-home Southern, and much more. I'm quite proficient in baking and have extensive experience working with puff pastry, sourdough, pies, cakes, alternative flours, and ethnic specialty items. All of my clients have been extremely happy with my food and presence. I have been cooking, teaching, and hosting for over 25 years. I've fed people from all over the world in a wide variety of settings, from countryside picnics to chic AirBnb's.
Recommendations
Mary Ball-moeller
I recommend Elka W as a chef
Maria Eriksson
I recommend Elka W as a chef
Frank Farrell
I recommend Elka W as a chef
Karen Morton
Elka has a talent for blending ingredients into the perfect food marriage. One taste and you will experience a food delight like never before. In addition, she has a passion for presenting her creations, explaining to each diner about the meal, its contents and the benefits of each ingredient. With Elka, food=love. It is passion that you can taste!
Monica Everett
I recommend Elka W as a chef
Stephanie Varga
It has been my pleasure to experience the wonder of Elka's meals on several occasions during the past year. Elka caters at local events and her healthy meals are a welcome choice for us. Elka also hosts weekend retreats with her cooking as a feature. During a retreat I attended, she lead us on a tour of the plants in the yard, we harvested prickly pears, and learned how to make jam with them! Elka has a way of combining ingredients at hand in ways that are unexpected and delicious. She also creates oil blends and tinctures that I use at home to enhance my own cooking. I would recommend Elka to host a meal to any one who appreciates delicious healthy food prepared with love and imagination.
Julia Harriet ehret
I attended a dinner which Elka hosted for a Polish Cycling Team, which featured Polish cuisine, in their honor. The food was delicious and the presentation and service was better than I could have ever imagined. I have also attended a couple music events and a film presentation where Elka provided her food service. Every time, it has been delicious and beautifully presented and served. Elka's incredibly creative and she also has an eye for beautiful presentation. She is also very artistic and creates beautiful written and drawn cards. Also, Elka has a beautiful singing voice. She is personable and charming and knows just what to say. She is also self motivated and has very good manners. She is accomplished and has all her affairs dialed in so she can provide the best service without making a mess. She also is very good with cleaning up at the end of the events. Elka is my favorite Chef by far.
Hollie Hawk
Elka brings an utterly irresistible charm to the food she lovingly prepares for people. I have never met a more creative and devoted chef in all my life and travels! Any hungry human who comes across Elka's recipes will be in for an unforgettable treat. Not only is her food delicious and nutritious, Elka goes above and beyond to bring her wild and native plant foraging skills to the table- literally. I have witnessed this woman create mouth watering masterpieces out of acorns, nettles, and a fridge full if leftovers. Her famous fir-infused olive oil goes down like magic, her canned chutneys stand alone by the spoonful, and her sweet rose petal personality is infused in all the tastes she creates! Elka is a gift to the earth, and the earth delights to be tenderly harvested and transformed by her talented and loving hands. I would emphatically encourage anyone I meet to find a way to experience Elka's cooking. She is a once in a lifetime kind of human and chef.
Kerwin Klein
I recommend Elka W as a chef
Lynn Crounse
I recommend Elka W as a chef
Share This Profile
Find Chef in Palm Springs, California
More in Palm Springs, California