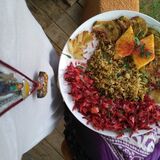 Anita M
Health Conscious Intuitive Creative Chef
Reasons to Hire Me
I am clean, detail-oriented, and reliable.
My approach to food is creative, exotic, and healthy.
Chef in Boulder, Colorado
I am a Boulder Native and was raised by a family that deeply valued healthy food, and holistic, alternative medicine. Throughout my life I have explored many perspectives on food, cooking and dining. I have considerable knowledge of the nutritional and health benefits of a plant based diet. I am passionate about food as an art form and as an expression of love and communion, and aware of the importance of the energy with which one prepares food. I learned a lot about food through a tradtional, recipe-based approach, which I still embrace, but also have learned to rely on my excellent palate and intuition to create unique, intense flavors with rich health benefits. I feel comfortable throwing together a succesful meal given just about any variety of ingredients. I lived in Costa Rica for 4 years, and traveled some around Central America. Exploring cuisines of other cultures and experiencing their inspiring biodiverse fresh produce expanded my horizons and resourcefulness with which I approach cooking. I can do anything from crafting a simple nutritious, delicious meal to designing up to 5 courses for a dinner party of up to 12 people. I can prepare premade meals for a few days, at my house or yours. I am most versed with plant based and pescatarian dishes, but am happy to cook meat as well. I am accomadating of any dietary preference or need.
Share This Profile
Find Chef in Boulder, Colorado
More in Boulder, Colorado