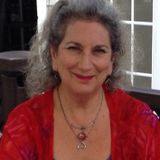 Sharyn S
I'm Sharyn Singer of 'Food the First Medicine', providing plant strong delicious, exciting food.
Chef in Newport, Rhode Island
I am UK trained Naturopath, innovative professional cook, nutritional specialist and champion of good food with a unique knowledge of preparing, cooking and educating about health and foods, focusing on local ingredients, seasonality, flavor, presentation and nourishment. Understanding of and practical experience in all aspects of working in professional and private kitchens including: food and equipment provision, menu and recipe development, staff training, food safety and hygiene, administration and organisation, customer service and specialized dietary needs. I am looking for part time work creating and presenting food and ingredients that are delicious, nutrient rich and support vitality, well being and the pleasure of eating. Working independently in pleasant intimate settings such as private homes, preparing food that is appreciated, sourcing and developing relationships with local suppliers who are environmentally aware appeals most.
Share This Profile
Find Chef in Newport, Rhode Island
More in Newport, Rhode Island