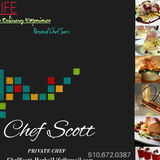 Chef S
Chef in Richmond, California
A Herbal Life co,inc. Personal Chef Serv. Email: Tel: 510-672-... Hello, bringing you greetings all the way from the San Francisco ca on the west coast. Chef Scott here at your services, as my team and I extraordinary Private Chefs and Servers, born and raised on the streets of San Francisco where cultural differences are bound. Experienced and multi talented I specialize in a broad range of cuisine specialties, preparing entrees with heart and passion are things I hold high regards to, not only will you experience different background and cultural eats molded as a art piece on a plate but you will also experience the Herbalife weight balance infused lifestyle. This lifestyle has proven to ensure energy boost, detoxification, healthy and balance weight tred, all from local natural infused food/oil supplements. Knowledgeable in herbalist studies and techniques I have accumulated an exceptional amount of experience defusing healthy plant proteins from all walks of life from plant roots oil, to things as such as garlic oil, lemon peels oil, to the most simplest things as salad green oil, properties within these compounds are high in different proteins, when diffused and then infused, these compounds compact together and turns into a concentrate with a 3x protein booster. Not only do these compounds add an immense diversity of flavors but also aides in a healthy weight balance. I am looking to be part of a single/multi family/Small Corp. long/short term, to accompany all you culinary wants and needs. When it comes down to anything culinary I am your guy from shopping fresh farm produce, prep and preparing meals, to reservation planning. Harvested sources only from the best quality local markets for meal preparation and protein infusions. I would love to bring an modern clean, undeniable unique experience to one's home/business , as I have had the opportunity to travel around the world and experience different cultural background eats, this I bring to you with a healthy twist, to enjoy the many different cultures and also maintaining a healthy life. Chef Scott as your private chef will ensure your day to day culinary expectations are met, there is no such thing as "it can't happen" I will make it happen in high End quality fashion. Please leave your cares on me as we begin this culinary journey together, trust that I may have your best interest at heart as I use my skills and knowledge to bring you an unforgettable fine dining experience. Chef Scott at your service As I truly look forward to hearing from you and being granted opportunity to demonstrate talent, skills and a whole new culinary experience, as I like to always say we may be culturally gaped but food brings the culture gap closer as we all love the comfort of food. Thanks. Chef Scott.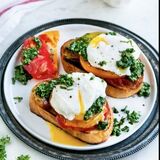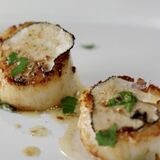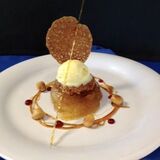 Recommendations
Deneshia Clemons
I am a business owner of a non -profit organization based out of California, for all my private events Chef Scott takes great care of , his work is beyond comparable, I highly recommend Chef Scott.
John Hardmon
He's a Great Chef no doubts. Recommended!
Share This Profile
Find Chef in Richmond, California
More in Richmond, California