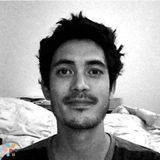 Soen S
Private In-Home Chef Available at your service! Can prepare Gluten-Free, Vegan/Vegetarian, Healthy, Comfort, and much more!
Chef in Berkeley, California
SOEN'S PRIVATE CHEF SERVICE About my Service: Excited to offer my very own special cuisine for any individual or family desiring more free time themselves and delicious home-made gourmet food! Meals can be prepared in advance or on-the-fly. Services include shopping, stocking your pantry/fridge, planning meals, serving, cleaning-up after meals. Meals and service can be offered as casual or formal dining. This is a live-out service, I provide my own transportation to and from your home. About Me: Born and raising in Southern California. I have been working in the food industry for over 12 years. I was formally trained in large scale kitchen work at Tassajara Zen Mountain Center - where I eventually served a Head Baker for the 2008 guest season. I have also worked in various kitchens and restaurant environments as either a line cook or head chef. I love working with kitchen teams and creating unique and delicious food. I have experience serving in formal style dining for luxury establishments, with food prepared for highly selective clients. I have specialized in preparing food for healing of terminal illness and for celiacs disease. I am well acquainted to specific diet preferences including (but not limited to) vegan, vegetarian, sugar-free, and grain-free diets. I am a gentle, congenial, and hard-working individual who is eager to deliver the best product possible. I derive the most satisfaction with face-to-face service with individual clients where I am able to cater towards their specific needs on a day-to-day basis. SERVICING AREAS: East Bay, Lower Marin, and San Francisco All diets are considered: Health Conscious Organic Vegan Vegetarian Meat-Lovers Gluten-Free Allergen Specific Whole Food Raw Food Slow Food Kids-Food and more Wide Diversity of Regional Cuisine Specialties: Asian, Indian, Polynesian, Middle Eastern, Mediterranean, Italian, Japanese, Latin-American, Californian, American, African, Seafood. Wide variety of Meal Specialties: Artisan Baked Bread, Flat Breads, Pizzas, Sushi, Pastas, Asian Stir Fries, Soups, Tacos, Roasts, Salads, Rices, Dips, Desserts, Cakes, Muffins, Pastries, and much more. General Hourly Rate for all services offered: $35/Hour (Negotiable) (Rate can be adjusted depending on your casual-formal requisite) Special Parties/Event meal also available (hourly rate adjusted based on number of people) Personal and Professional references available based upon your request.
Share This Profile
Find Chef in Berkeley, California
More in Berkeley, California