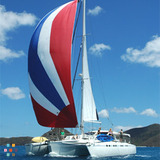 Barbie F
Full Time Chef Wanted For Charter Sailing Yacht In The Virgin Islands!
Chef Job in St Thomas, Virgin Islands
Full Time Chef Wanted For Term Charter Sailing Yacht In The Virgin Islands! Seeking Top Notch Chef to work Full-Time for weekly charters from April 21, 2017 - July 15, 2017 Compensation: Pay per day for each charter, Plus Share of Gratuities, Plus, all meals, living expenses, room, board and $300 towards round trip airfare, Plus big bonus program at the end of the season. Everything totals approximately $1,200 per charter. Location: St Thomas, US Virgin Islands Arrival Date: Must arrive no later than April 20, 2017. Departure Date: You can stay longer if you like, but our charters end on July 15, 2017 You will live on our 63' multi-hull sailing yacht. We have a charter business with this boat that sleeps up to 12 guests plus crew members. We take groups and families on 7 day sailing vacations touring them all around the Virgin Islands. Some of these charters are big families and others are large groups of friends. Our charters are all inclusive. This "All Inclusive" part is why you are needed, lol... we provide all guests with 3 meals each day, plus all snacks, appetizers and deserts & mixed drinks, plus we clean their sleeping cabins and bathrooms each day. We will send you complete details about our business and send you a photo of the floor plan of the boat so you can see the crew quarters accommodations you will have, if interested. We are seeking an attractive female chef that is a hard worker, and has enough chef experience that cand handle all the cooking, cleaning and hostessing. While age is not important, we do find that those under 30 usually don't have the experience we'd like, and those over 45 usually don't have the energy to keep up with the demands that are required when we are on charter, so therefore we find that this age range works best. We will certainly consider someone outside this age range but you will be expected to be as responsible and stable as those over 30 and have the strength and stamina to be able to keep up with the work demands of someone under 40. You cannot be overweight and working on a sailboat because your duties will require that you move all about the boat and living in cramped quarters and assisting with making beds in smaller than normal spaces, so being height and weight proportionate is important. So for those reasons, you must be physically fit, petite and not overweight or you'll never be able to handle the job. We will provide work uniforms which are very professional. We pay for and provide all living expenses, meals laundry for uniforms and any cabin you'd like to live in on the boat when we are NOT on charter. And when we are on charter, then in addition to room & board, you will have your own small crew quarters cabin and receive an equal share in the gratuities paid by the charter guest. Please, No Alcoholics, no bi-polar crazies, no drama queens, no druggies, no smokers and no excess baggage. If you believe you're perfect for this position, then email us a couple recent photos with a resume' or basic explanation of your experience and why you would be perfect for this job. If you are qualified then we will reply to your email with more details and a link to our very detailed website with our profiles and photos of us and a video tour of the boat. We will request for a Skype interview. Please do not click "Reply" to this posting. Instead, email us at our address shown below. We look forward to hearing from you! VISAcharters at gmail..... Or text our cell phone at --...
Share This Profile
Find Chef Jobs in St Thomas, Virgin Islands
More jobs in St Thomas, Virgin Islands