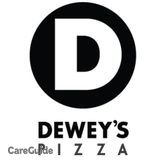 Dewey's P
Dewey's Pizza HIRING FOR PIZZA MAKERS!
Chef Job in Overland Park, Kansas
Dewey's Pizza is NOW in the Kansas City Metro Area!!! Dewey's Pizza is an upscale pizzeria offering gourmet pizzas and salads, with a commitment to providing exceptional hospitality. We currently have 22 locations located in Ohio, Missouri, Kentucky, and Illinois. Our newest location will be in Overland Park, KS!! We are looking for hardworking, team oriented, passionate and fun people to join our team! We believe that taking care of our employees is the number one priority. Qualities we value: - A professional and respectful approach to working with others - Open--mindedness - Goal Oriented - Attention to Details - Excellent time management skills - Prior hospitality experiences can be an asset but this is last on our list for a reason We offer a variety of benefits: - Medical & Dental benefits for employees who work 30 or more hours - A bonus program for team members who average 15 or more hours a week - Raises based on contributions not tenure - Leadership & Management opportunities for high performers Here are some other great things we offer: -Flexible scheduling- We work to provide a 'set schedule' so you will have the same shifts every week. This allows you to plan the rest of your life outside of work. Need a night off or looking for more hours? We have online scheduling where you can post your shifts for others to cover or pick up shifts for other members of the team. -Competitive Pay- All raises at Dewey's are 'pay for performance'. Nothing here is based on tenure and we don't wait for reviews to give you a raise. If you're the best, you'll get paid for it. -Great Culture- The most important thing to our management team is fostering a great work culture. We have high standards and hold everyone accountable, but we also like to have a lot of fun. We find that a balance of structure and fun makes for a great work environment. That is probably why we were named one of top companies to work for in St Louis, Missouri and Cincinnati, Ohio. -Product of the highest quality- Most people wouldn't think of a pizza shop first when they think of high quality product but they probably haven't tried our gourmet pizzas and salads. We fresh prep all of our ingredients and homemade dressings every morning. Our salads and pizzas have won several "Best Of" awards. We believe that people need to take pride in what they do and here at Dewey's it is hard not to take pride in the delicious product we offer and the genuine hospitality we give. If you have any questions, please feel free to visit our website (deweyspizza.....), or stop in for an interview and meet our management team. We're excited to have more great people join our pizza making (and pizza loving!) family. Call 913-328-... to be scheduled for an IMMEDIATE INTERVIEW!!
Share This Profile
Find Chef Jobs in Overland Park, Kansas
More jobs in Overland Park, Kansas