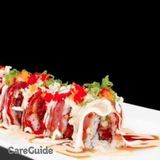 Cim I
Sushi Chefs and Prep Chefs, Chefs w/ no sushi background is okay as well.
Chef Job in San Jose, California
Casual yet elegant Japanese restaurant in San Jose is accepting applications for 8 experienced sushi chefs and prep chefs. The company's brand has been around for over 40 years and is opening a new fun & easy concept. The ideal candidates must be able to meet our work standards, work hard as a team player, and have passion and commitment for the food industry. Shifts will be no shorter than 4 hours and no longer than 12 hours. Shift times may vary between 8 AM to 4 AM. Hiring for both Part Time and Full Time positions. Sushi Chef (duties include but are not limited to): -Making nigiri, sashimi, and sushi rolls in presentable manner for customers -Accurately and efficiently assemble sushi menu items as well as prepare and portion food products -Plate and garnish final dishes -Make sure work areas are clean and sanitize before and after work -Knife skills to prepare fish and the knowledge to use fish efficiently -Provide excellent customer service to guests that dine at the sushi bar -Excellence in communication and hospitality -Ability to multitask and maintain composure during busy times -Ability to embrace a team-oriented environment Qualifications: -A minimum of 1-2 years of experience as a Chef for a high volume restaurant. -Must be able to communicate clearly with managers. -Must be able to reach, bend, stoop and frequently lift up to 50 pounds. -Must be able to stand for long periods of time and withstand repetitive motion of hands and wrists. -Must possess excellent knife skills and butchering techniques. -Must have reliable transportation. -Must be able to perform effectively under pressure in busy service stations in a high volume environment. -Must possess good customer service skills and solid English communication capabilities. -Must be eligible to work in the United States. -Must have a valid state of California Food Handler's Card. Competitive Pay Please e-mail us your resume and include a cover letter.
Share This Profile
Find Chef Jobs in San Jose, California
More jobs in San Jose, California