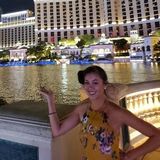 Kristen C
Chef inspired meals with home-cooked goodness. Kids approve, too!
Reasons to Hire Me
If you want to learn what I do, I love to teach it too!
Flexible. With meal changes, kids' mood, quick, etc!
Chef in Dunedin, Florida
Hello, I'm Kristen. Born in Toronto Chinatown, then moved to Florida when I was two. I learned to cook from a young age, in the kitchen with my mom to help with our growing family. I'm the eldest of four kids and cooking became second nature. If we must eat to live, then why not live to eat?! I love food. All kinds and flavors that inspire me from around the world. I have a huge love for Asian style fare and its always a hit! Of course I can do other things as my mother was raised in a traditional French catholic home. In high-school I took on an apprenticeship at a fine dining restaurant. Truly, I washed dishes by hand for 6 months before I got to handle even salad and soup to start. I entered a cooking competition entering my senior year of high-school and placed second overall of what was pared down from thousands of applicants to a live cook off. I graduated and joined the United States Navy instead. Now, I am also a retired restaurant worker and I cook for my friends and family but would love to cook for you too! I'm looking to give busy moms and dads a night off from cooking and want to explore new flavors and things they haven't thought of yet. I can also offer a private, romantic coursed dinner for a special evening or celebration. I am amenable to many options so just ask!
Recommendations
Sergio Gomez
I recommend Kristen C as a chef
Share This Profile
Find Chef in Dunedin, Florida