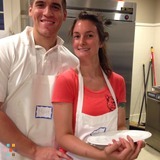 Katie Z
Do you want a personal chef?
Chef in Niantic, Connecticut
Do you have a busy schedule? Do you have picky children or loved ones with food allergies/sensitivities? Do you wish you had health food already prepared waiting for you in your fridge when you came home from work? I would love to cook/bake for you! I enjoy finding yummy recipes, getting the ingredients together and making the dish. I'm really great at gluten-free cooking and baking and I have recently started to delve into this realm myself. I'm also knowledgable in the areas of special nutritional needs such as vegan, vegetarian, and even creating delicious high calcium, iron, and fiber dishes. I would be happy to go food shopping for you, get the ingredients, cook or bake and clean up your kitchen. Call or text 860-984-...
Share This Profile
Find Chef in Niantic, Connecticut
More in Niantic, Connecticut