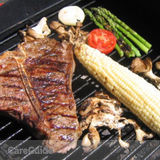 Personal C
Meals On Demand 7 days a week
Chef in Stockton, California
Homecooked meals prepared on demand at your designated choice residence or office kitchen. Meal delivery service available. Lunch and dinner, 7 days a week. With over 24 years of culinary experience, on the spot cooking, allows me the ability to enhance any dish to its ultimate flavor potential. At your service, I prepare & cook a wide variety of meals such as: Mesquite or Hickory Grilled Steak of your choice, plated with Whole Sweet Corn, Red Potatoes, Mushrooms, Asparagus, Onion, add Garlic if preferred. You may also enjoy a Wild Grilled Salmon w/ Tiger Prawn/Garlic Potatoe/Asparagus lunch or dinner. American, Mexican, Southern and Other cuisines prepared on request. Call or email now to discuss your culinary needs and menu options.
Recommendations
Anthony Allen
I recommend Personal C as a chef
Samantha Everest
Ms. Chef Girl is by far one of the best cooks in the world. I mean it. This lady has prepared meals for my family and I for years and no one I know can produce better dishes than she. From hickory smoked bbq, seafood gumbos, jambalayas, garlic crabs, fried fish, prawns, oysters, scallops, real italian spaghetti, fresh strawberry salad w/raspberry vinaigrette with grilled chicken breast and so much more. She has prepared it all. We are so fortunate to have her in our lifes, shes the best!
Share This Profile
Find Chef in Stockton, California
More in Stockton, California